---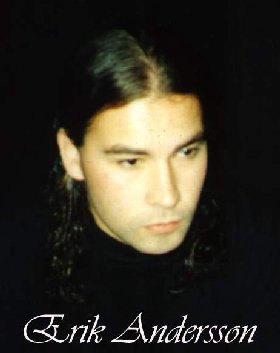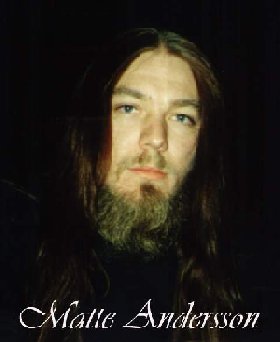 Godgory's latest release, Resurrection, is an incredible mix of up tempo melodic death metal and slow, yet heavy, atmospheric doom. This two man band brought in team of top notch studio musicians and collaborators to help in the molding of their excellent and surprisingly original sound. From the moment I heard the first crushing notes of the title track in a record store, I knew they were on to something special.
Heaven & Hell: Congratulations on Resurrection, it is an excellent album. What has the reaction been like so far? What kind of sales expectations do you have for it?
Matte Andersson: The reaction has been very good both from fans and from reviews in Mags around the world. We hope to sell more than we did with Shadow´s Dance. Shadow´s Dance sold about 10.000 copies and since Resurrection is so much better, I think we deserve to sell 3 times as many.

HH: I'm unfamiliar with history of Godgory, how did it come about that you
have only two members in the band? Could you give us a little background
info?

MA: Me and Erik started Godgory in August of '92, we only played covers in the
beginning from bands like Entombed, Edge of Sanity and Napalm Death. In April of '94
we recorded our debut demo, simply called "Demo-94". We recorded at Unisound
with Dan Swanö as engineer. We sent out the demo to different labels around
the world. Invasion Records from Germany signed us for 2 albums. We released
our debut album Sea of Dreams in January of '96, and it received a good response and
sold about 5.000 copies.
In October '96 we recorded our second album Shadow´s Dance this one did also
receive good response like 10 out of 10 in Rockhard and we also ended up on
their Dynamite List at number 7. Shadow´s Dance sold about 10.000
copies.
After we had recorded Shadow´s Dance Stefan, our rhythm guitar player, left
us to concentrate on his education, so he had no time left for Godgory. Our 3 other members are involved in another band, which is their first priority, so we thought it was better to let them go and try to find permanent members. So now it was only me and Erik left in the band and we had heard that Nuclear Blast were interested in Godgory, so we called them up and they signed us.
In May of '98 it was time for Godgory to record one song for the sampler Beauty
in Darkness vol. 3. Since we had no members we asked Mikael and Thomas who
had played with us before if they were interested in to help us out in the studio. They had nothing to do at the moment, so they accepted. We recorded the song "Conspiracy of Silence" in studio Fasaden in Hagfors, Sweden. Hagfors is 80 kilometers from our hometown Karlstad. We were pleased with the studio and decided to record our third album there too. Mikael and Thomas also helped us do the album which we recorded in October of '98. We are very pleased with the result, Resurrection is the best thing Godgory has recorded so far.

HH: Resurrection combines a lot of different kinds of music. Songs like "Crimson Snow" sounds almost like a different band compared to slower songs like "Adultery" or "Waiting for Lunacy to Find Me". Do you agree with that view? Was this variety and contrast accidental or
intentional?

MA: Yes I agree that some of the songs differ from one another, but you can still hear that it´s Godgory. I also think the album would have been a little bit boring with only slow songs since we´re not a doom band (not that I have something against slow songs, I love Doom). When Erik writes songs he writes from what he feels, which mood he´s in and I guess he must have been in an angry mood when he wrote "Crimson snow", as long as the songs are good it doesn´t matter which tempo they have.

HH: Since I'm admittedly unfamiliar with your older material, how does Resurrection compare with Sea of Dreams and Shadows Dance?

MA: Resurrection is so much better than our previous albums, it´s better songs, better arrangement, and the sound has got more atmosphere to it. We have matured as songwriters, so this time we concentrated on every single part of the songs to make them as good as possible, instead of mixing in other music styles like we did on Shadow´s Dance. But if you listen to our previous albums you can hear it´s Godgory so we have managed to keep the red thread in our music, only that we have developed it to a higher step.

HH: The music on the album is credited to drummer Erik Andersson, how is a
drummer so good at writing music and arranging melodies?

MA: Erik is very musical and he listen to a lot of different music and gets influenced by that. When he listen to music, he listens a lot to the arrangement and he gets idea from this and that and puts it together in a song. Since he has written the songs I guess he feels how the arrangement should be.

HH: Who is Frederik Olsson? How did he come to write so many of your lyrics?
Is he the one doing the spoken word parts?

MA: Fredrik Olsson is a friend of ours and he writes very good lyrics. He has written the lyrics to "Resurrection", "Adultery", "My Dead Dreams", "Waiting for Lunacy to Find Me", and since he has written the lyrics to the songs with the whispers, we thought it would be cool to let him do the whisper and it turned out very well.

HH: How does the music develop with only two members? Do you have an exact idea of what you want before you present to the studio musicians, or do you allow them add ideas?

MA: Erik got a pretty clear picture in his head how he want things to sound, but he´s always open for ideas from us others and we try to things out and take what sounds best.

HH: Do you hire musicians to play live? Will you be touring behind the album?
If so, will you be coming to New York City at all?

MA: If they want us to play live, we will use session musicians. We haven´t heard anything yet about tour and stuff. It would be fucking great if we could come to New York and play and also see a bit of the States. We have to wait and see what happens.

HH: As has become customary here at Heaven & Hell, I'd like to ask you to
name your top five favorite albums.

MA: OK here we go:

1. My Dying Bride "The Angel and the Dark River"
2. Anathema "Alternative 4"
3. Therion "Theli"
4. Dissection "Storm of the Light´s Bane"
5. Dimmu Borgir "Spiritual Black Dimensions"

HH: "Princess of the Dawn" is very different from the rest of the album in your vocal style. There are also no lyrics for this song in the sleeve. Is this a cover song? If so, who is it originally by?

MA: Yeah it´s a cover song from the band ACCEPT included on their album Restless and Wild. Godgory´s version of "Princess of the Dawn" will also be included on a tribute album to ACCEPT which will be released by Nuclear Blast August 23,'99.

HH: Have you begun thinking about new material for the next album? What kind of areas are you looking to explore with your music and lyrics in the future?

MA: We are going to develop the material we got on Resurrection and make better songs, with even better arrangement and sound. I don´t know about the lyrics yet but I guess that they will deal with subjects like death, hate and sadness.

HH: Thanks a lot for the interview, I really appreciate it. Any closing remarks?

MA: Thanks to you Greg for your support. To everybody out there that hasn't heard Resurrection yet, check it out. If you like our previous album I can guarantee you will love this one. Don´t forget to cruise on by my website, http://home.bip.net/gory/.