---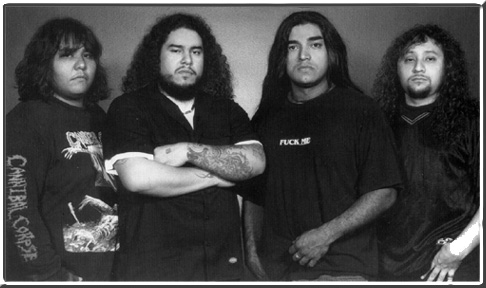 Doom metal, stoner rock, whatever... The fact is that there is currently an massive groundswell of fresh, talented and unabashedly heavy acts raised on the likes of Black Sabbath, Trouble and Kyuss cropping up all over the place. Call it whatever you like, but the fact is that bands like Solstice, Orange Goblin and Sheavy are revitalizing and energizing the heavy metal scene. At the forefront of the new doom metal revival is John Perez's (of Solitude Aeturnus fame) label, Brainticket Records. One of the latest clans of doom metal prodigies to be introduced by John Perez are the San Antonio based titans Las Cruces. Their latest album Ringmaster is a doom metal tour de force, one of the best in the genre. I talked with guitarist George Trevino about the doomed state of the world...

Heaven & Hell: Congratulations on Ringmaster, it is quite an achievement. Do feel that you've improved over the course of two albums? Why?

George Trevino: Thanks for the kind words. Yes, we do feel that we have improved through the course of 2 albums but in the course of playing live extensively as well. We have been working very hard at achieving our sound and style of music. We do so because we love heavy metal and rock especially in the doom category or stoner rock category.

HH: What defines doom metal to you? There seems to be a lot of confusion and genre blending between "stoner rock" and doom metal, as well as doom/death metal.

GT: Doom metal to me represents all things heavy, which includes horror, terror, anger, solitude, melancholy, depression etc...The only confusion to me is whether what brand of beer am I gonna get drunk with while I jam to my favorite bands such as Nebula, Sheavy, Solace, War Horse, Trouble. I think people should not put too much emphasis on categories, they should be glad that there is interest in this type of music. Sometimes people can become very flaky and decide they would rather listen to rap or some other sort of music rather rock or metal. Then where will your categories be?

HH: What is it like being on John Perez' label? How involved does he get w/ the artists? Are you satisfied with the distribution?

GT: It is a (pagan) Godsend to be on Brainticket records with John Perez at the helm, leading this new breed of doomsters along the way. He has been working very hard at making the name Las Cruces a household name. Well, at least a "tavern-hold" name, just kidding. We are more than happy with the work he's done in distributing our material and the help with tour support, way to go John.

HH: Can you list your five all time favorite albums? Do you feel they reflect the sound of Las Cruces?

GT: I certainly can, here goes:

1- Black Sabbath-Black Sabbath

2- Trouble-Trouble

3- Black Sabbath-Master of Reality

4- Nebula-Let it Burn

5- Solitude Aeturnus-Through the Darkest Hour
Yes, they do represent some of sound, especially the Black Sabbath albums mentioned.
HH: What does the cover represent? There seems to be shapes of faces in the smoke surrounding the figure, which I assume to be the "Ringmaster".
GT: It presents the Ringmaster of this world, which we know as the almighty dollar. The faces represent all the different facets of the dollar, which it uses to control the world: religion, politics, etc…
HH: How does the songwriting process go? What comes first, lyrics or music?
GT: The music is always first for us. We work better when we have the music done, then we can concentrate on the lyrics and on other things.
HH: What kind of shows have you done behind this album? Any chance you will come up to NYC?
GT: We have done many shows in the Southwest, but now we are going on a 5 week tour in support of the new album Ringmaster. Yes, we will be in NY city on August the 11th at the Continental alongside many other great bands, check your local listings.
HH: What kind of approach are you taking to the next record? Will try to maintain your sound or will you try to evolve? What kinds of elements are you thinking of adding to your music?
GT: We will always incorporate the doom/stoner sound but we would like to evolve just a bit, but not too much. We would like to add some keyboards, which we have never done although we have thought about it a lot.
HH: Congratulations on your San Antonio Spurs beating my New York Knicks in the NBA finals. What is the metal scene in the San Antonio area like?
GT: Thanks, on behalf of the Spurs. The metal scene is almost a joke around here. If you are not a Korn type band or a Marilyn Manson type freakish band, you are exiled into the Texas outskirts. There are still some metal die-hards but we are losing many to the Manson scene. That truly sucks. What really sucks is that many local bands are jumping on that bandwagon just to play at local venues. Truly sad and disturbing if you ask me.
HH: Thanks for the interview, I really appreciate it. Any closing comments?
GT: Well, I just want to say that metal is alive and well and every metal head or rock freak should display their pride for this music. Do not let the other guys win. We can come back with power and eliminate those posers who mock our way of life. Thanks and Cheers from Texas. Keep the faith.